Deshu Technology and Unity Research Institute Exchange Seminar
2023-04-13
On March 21, 2023, Mr. Tao Junjie and his team of experts from UNITY Research Institute visited Deshu Technology. Mr. Zhang Xianli, General Manager of Deshu Technology, led his team to have an in-depth discussion and sharing with the Unity expert team on topics such as digital twins, XR interaction, virtual navigation, holographic sand table, etc.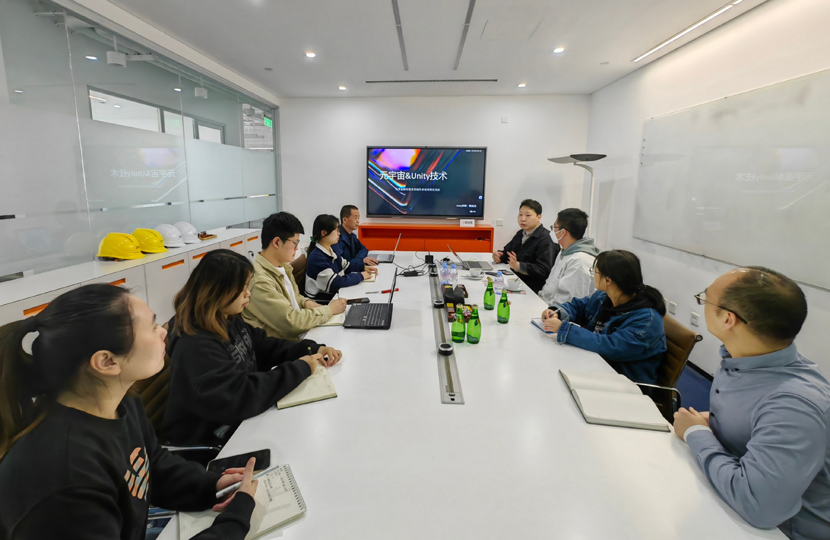 At the exchange meeting, Unity expert Mr. Tao first introduced the business scope and core technology of UNITY Research Institute, including course training, exhibition hall visualization, artificial intelligence, digital twins, digital humans, XR interaction, game development and other contents. Based on the technical innovation points linked to Digits Technology, the Unity expert team demonstrated their "Digital Holographic Park" project jointly created with Tongji Design Institute. Through simple gesture operation and MR technology, it can present the internal and external details of the entire park and realize the landing of multiple functions such as investment promotion, operation and maintenance management.
Digits Technology team expressed high recognition and interest in this regard. Mr. Zhang believes that in the construction sector, digital holographic parks have great development space and application value, which can improve construction efficiency and quality while reducing costs and risks. He also revealed that Digits Technology has its own unique talent training plan, adopts German dual system education, cooperates with well-known domestic universities for school-enterprise cooperation projects, and hopes that UNITY Research Institute can join in so that schools can also feel the advantages of digital holographic parks.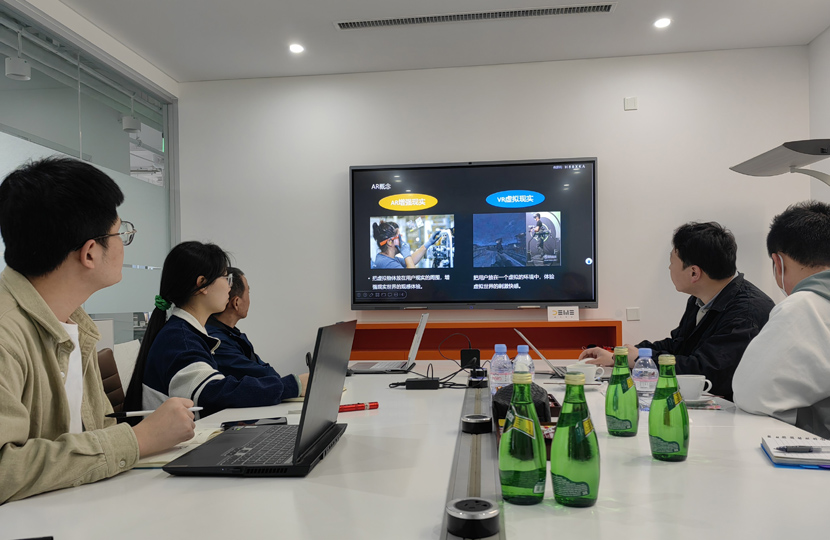 Next, both parties further discussed the specific application scenarios of digital holographic parks. Mr. Zhang proposed whether digital holographic parks can handle maintenance on site such as water leakage and circuit failure through alarm processing. The expert said that as long as the on-site data is imported into the digital holographic park, this function can be realized. Mr. Zhang said that Digits Technology is currently planning to integrate construction operation and maintenance through IOT technology.
As the topic deepened, both parties discussed the combination of ChatGPT and Metaverse. Mr. Zhang proposed whether there could be new achievements in combining ChatGPT with Metaverse. Unity expert Mr. Tao believes that ChatGPT is a kind of artificial intelligence language generation technology that can be used to generate various types of text content. Currently, the research institute is trying to present ChatGPT in the form of digital humans and use it as a guide for digital holographic parks. Mr. Zhang said that Digits Technology has a professional model design team that can provide data foundation for digital holographic parks. And suggested that a one-click restore function be added to the initial window of digital holographic parks so that users can quickly view the entire model. Mr.Tao was very appreciative.
Through this exchange meeting, Unity expert team attaches great importance to the interaction between Unity Research Institute and Digits Technology's digital building decoration field. In the future, Digits Technology and Unity Research Institute will further communicate and cooperate deeply to jointly develop application programs in the field of digital construction and create a landing implementation of design-construction-operation maintenance full-process industrial chain.
BUILD UNIQUE EXPERIENCES WITH US
联系我们